Top-10 Golden Knights Must-See Home Games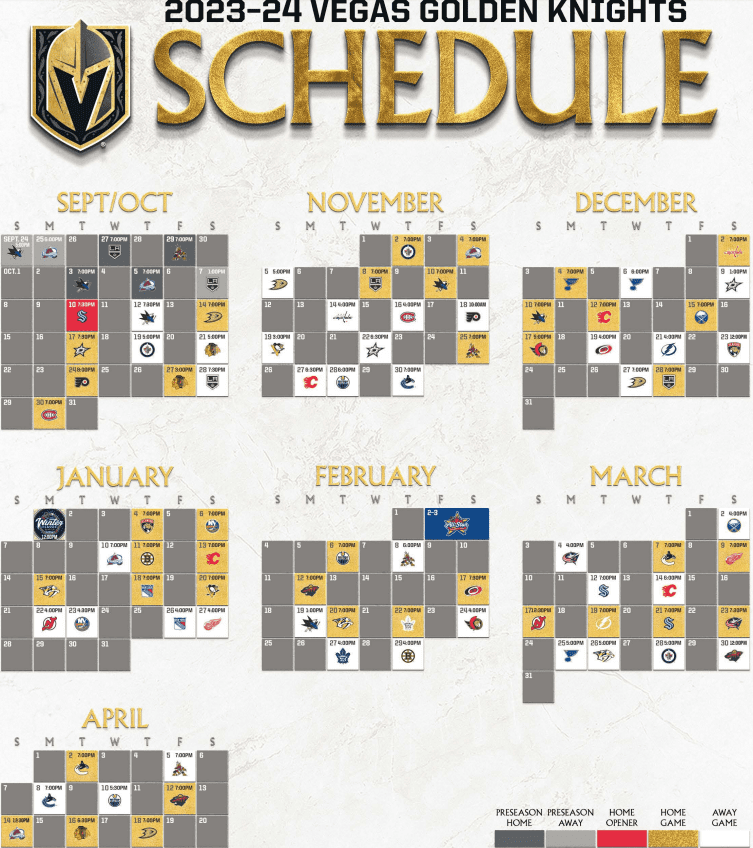 There will be 41 home games for the Vegas Golden Knights at T-Mobile Arena for the next regular season. What if you could only make it to 10 games? Which games should you go to?
We got you covered!
Oct. 10 – Home Opener vs. Seattle Kraken: Approximately 18,000 will be able to say they were there the night the first Stanley Cup banner was raised. Will you be one of them?
Oct. 27 – Chicago Blackhawks: If Connor Bedard lives up to half of his expectations, he will make the Hall of Fame. Bedard figures to be a generational talent along the lines of Connor McDavid and Auston Matthews. Blackhawks fans travel well and T-Mobile Arena will have an electric atmosphere.
Nov. 4 – Colorado Avalanche: Sportsbooks have the Avalanche as the betting favorite to win the Stanley Cup. The Golden Knights will want to remind the Avalanche that the Western Conference will have to go through Vegas.
Dec. 4 – St. Louis Blues: There is always something in the air when the Blues come to town. The games are high scoring and no lead is safe. Adin Hill was scrappy throughout the playoffs and Jordan Binnington is looking for a fight every game. Maybe the first goalie fight in Golden Knights' history takes place?
Dec. 15 – Buffalo Sabres: Alex Tuch remains a fan favorite and Jack Eichel wants to stick it to the Sabres whenever he can. No shortage of storylines when the Sabres and Golden Knights hook up.
Jan. 4 – Florida Panthers: This is a game the Panthers circled the day the schedule was announced. Matthew Tkachuk is worth the price of admission alone. This is going to be a fun one. Expect the production team to have some fun Stanley Cup references on Knight Tron throughout the game.
Feb. 6 – Edmonton Oilers: Another circled game on the calendar for the visiting team. There's a good chance Alex Pietrangelo and Leon Draisaitl drop the gloves at least once. This is one of the few occurrences that McDavid takes a back seat to a storyline.
Feb. 17 – Carolina Hurricanes: Health issues ended the Hurricanes' hopes of a Stanley Cup Final appearance. Could this game be a potential Stanley Cup Final matchup?
Mar. 17 – New Jersey Devils: This is also a potential Stanley Cup Final matchup. Are the Devils ready to take the next step?
Apr. 18 – Anaheim Ducks: The final home game of the season. The final sendoff before the team embarks on to the playoffs to defend their Stanley Cup.
For some odd reason, if the Golden Knights are out of the playoff hunt, it could be the last time we see Jonathan Marchessault, Chandler Stephenson, William Carrier, and Alec Martinez in Golden Knights uniforms.